JANESVILLE
Last year, Heather Baker gave her husband, Dustin, a calendar.
She marked all five of their children's birthdays and listed what they liked and their favorite colors.
Using a big black Sharpie, she circled the 28th of every month to remind him: That was their date night.
It was one way Heather said she and their family could stay connected to Dustin while he was more than 6,000 miles away in Iraq, where he served as a helicopter pilot on his 10th military deployment.
"Just because you're not here doesn't mean that we can't have a date night," Heather said.
When Dustin first deployed with the U.S. Army in 2003, "communication back home was very scarce, if any," he said. It was usually by satellite phone, and he had about 10 to 15 minutes per week to call home.
Technological advancements over the last 15 years have made daily communication—and monthly date nights—possible. Whenever he can access the internet, Dustin can order pizza to Janesville. He can buy a movie on Amazon and have it arrive on the 28th of the month.
Communication is vital for keeping their family and marriage strong, Heather and Dustin said. They have been married for five years, but—by Heather's calculations—they have shared the same physical space for only about 11½ months.
Early last month, the Bakers drove around Janesville to look at Christmas lights. Clara, 13, was in the front seat FaceTiming with Dustin on a cellphone.
Christmastime is family time, but Dustin wasn't sure he could make it home. Getting back to the U.S., the couple have learned, can be complicated and erratic.
He said he didn't want to raise everyone's hopes and then get delayed.
But he would try to get there.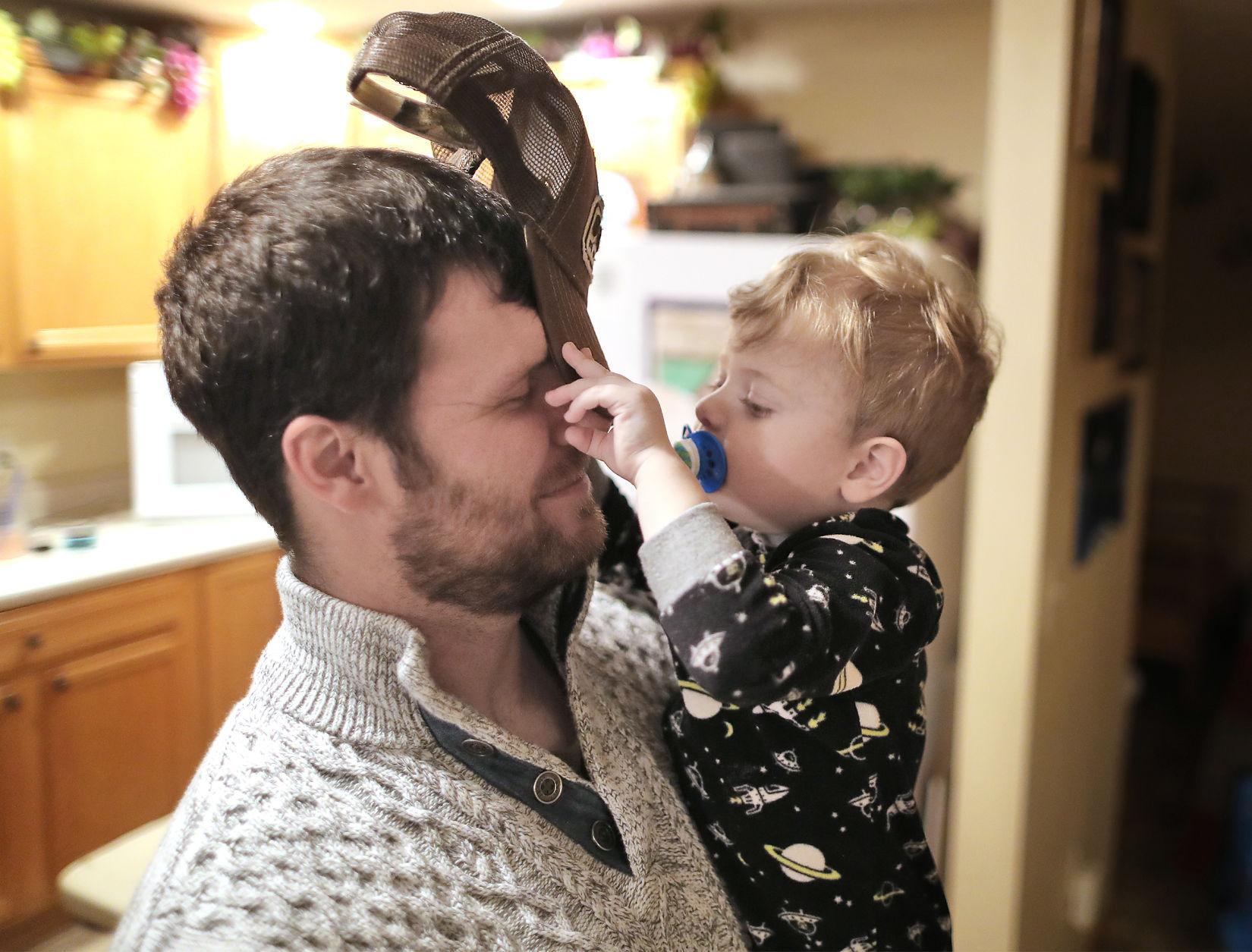 A family emergency
Dustin, 33, knows the desperation of not being able to get home.
During a 2016 tour in Afghanistan, if everything had gone according to plan, Dustin would have started his vacation two weeks before Heather was scheduled to go into labor. He would be home for a month—time he could spend with his newborn son.
But Noah was born more than a month early, Heather said. And with that came health concerns.
"I was struggling to get back as soon as I found out he was coming," Dustin said. "(I was feeling) a lot of different emotions because of the circumstances of which he was born. There was a lot of ups and downs of: He's doing OK. Now he's not doing OK, move him up to the NICU (Neonatal Intensive Care Unit).
"(I was) just frantically finding any way possible to get back."
Trying to recall his route, Dustin said it looked like this: Afghanistan to Dubai to Amsterdam (or Paris, one of the two) to Atlanta to Madison to his car to Rockford, Illinois, where Heather was in the hospital.
The odds did not look good for Noah. Heather said doctors gave him about a 15 percent chance to live.
"Seriously, at one point I thought he was going to die before I made it home," Dustin said.
"He almost did," Heather said.
Dustin missed Noah's birth by two days.
While Dustin was overseas and on his way back, Heather had to face all the logistical challenges at home by herself—all while preparing for an emergency cesarean section.
"Where are the other children going to go? Who can take care of them? Who's going to take me to the hospital?" Heather asked. "Who's going to take care of the dogs? Who's going to take care of the house?"
Noah will turn 2 years old soon. He is Heather and Dustin's second child together, and they each have children from previous marriages. Although Noah has lingering health problems, he still runs around the Bakers' house during a reporter's visit, throwing a book and eating ice cream with his hands.
Experience has taught Heather how to pilot the ship on her own. And she had planned to celebrate Christmas without Dustin last month.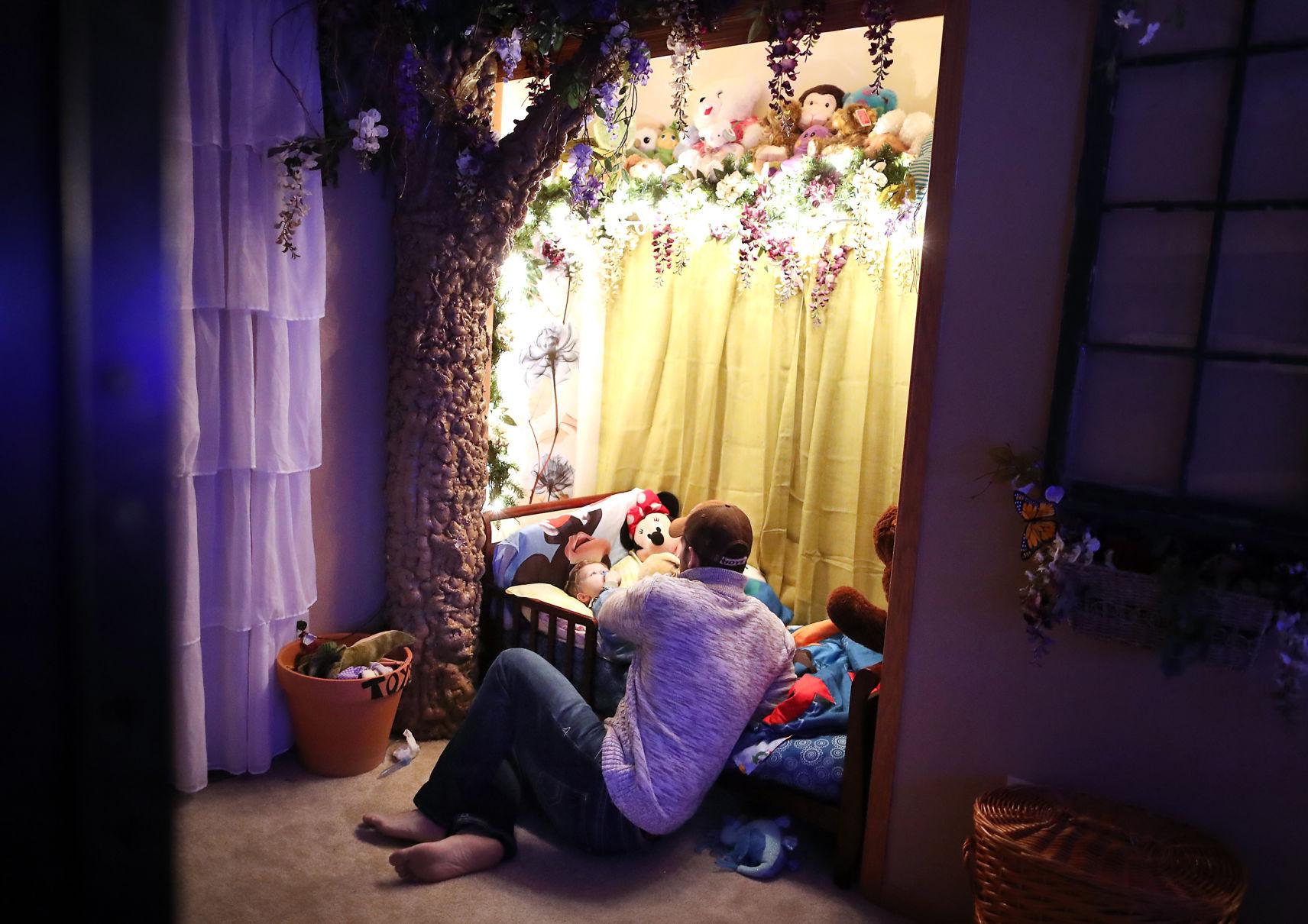 Chaos and quiet
Heather usually sits in the driver's seat, both literally and figuratively.
"I have a hard time letting him drive," she said, "just because I'm so used to being in control."
Heather lives by the routine, the schedule, the "controlled chaos."
"I don't think I would know how to operate without it," she said.
A firm routine is important because one deviation can throw everything off. A kid's messed-up nap schedule can mean Heather doesn't get to bed until midnight, for example.
As Heather explained this, Noah threw the book he had picked up. At various times, dogs barked, kids cried and both parents checked the time to make sure another kid was picked up on schedule.
Even when Dustin is in the country, his work with Columbia Helicopters requires travel. Heather said she used to work full time as a dental hygienist, but now she just fills in sometimes and also cares for other people's kids on the side. She is also the vice president of the Rock County Moms Club.
The day is full of hustle and bustle: breakfast, school, gymnastics, ice cream and homework.
But then it stops.
"Nighttime is always the worst because from the time I wake up until I put the last one down, it's just go," Heather said. "Then you go to bed, and you realize: You're alone. It's quiet. And you're just, kind of, you're just by yourself. That's when you're lying in bed next to nothing, really."
Heather has never liked silence.
After they got married, Dustin left for Afghanistan. He would shut down, go dark for days at a time and barely speak when they finally connected, Heather said.
"It was very cold," she said. "You felt like there was, like, the first (deployment), we didn't feel like there was a bond. Our relationship was falling apart, like we were strangers."
It's understandable that Dustin was so detached. The war was not all glory, he said. It was dirty and scary. He chose to shield Heather from it to protect her.
When he returned home, Dustin said they argued a lot. They had been married, but they hadn't really been together.
"It got stressful for a while," he said. "It took a lot of patience, I think, on both of us to work through it and just not give up on each other."
Dustin said it takes "a lot of trust" and open communication "as much as possible" to keep relationships alive when one partner is in the armed services.
During his most recent deployment, Dustin said he stopped trying to hide everything from Heather. Even when he knew he would be off the grid for a few days, he let her know.
Technology helps Dustin stay connected to his family in Janesville. He messages with Heather and the kids every day. He FaceTimes, too, to help with homework.
Even if she's not able to reach out and grab his hand, Heather said she still sees Dustin's face every day.
The Bakers' 3-year-old daughter, Gabriella, gave Dustin a stuffed sloth to keep him safe. Dustin took pictures with it overseas and even took it with him when he flew.
It was a piece of home.
That connection is important during those times—Fourth of July fireworks, Christmas lights around town—when Dustin can see home only through a screen.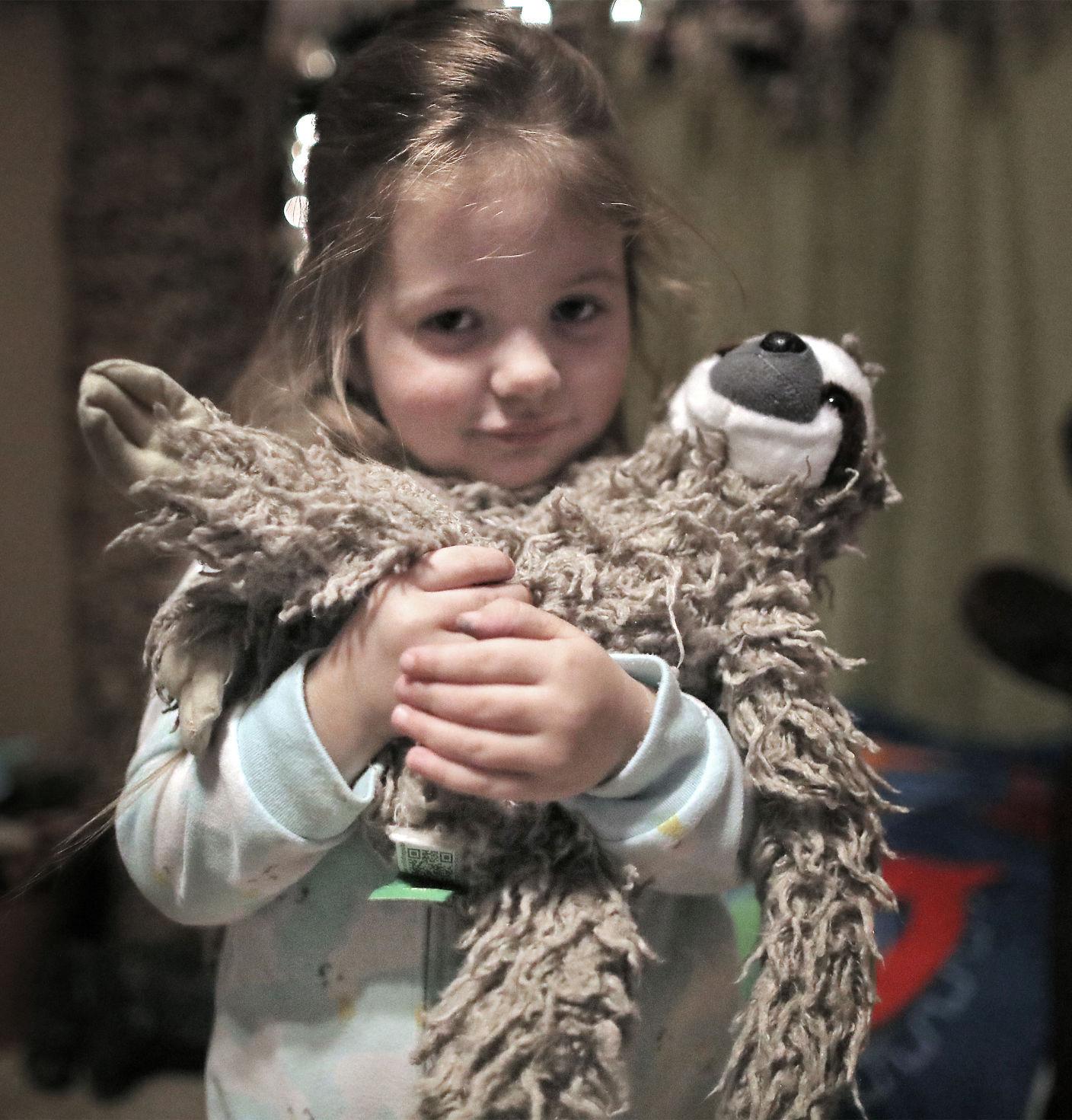 'Daddy is gonna like it'
Don't get their hopes up, Dustin thought.
Throughout his most recent deployment, he had told Heather he would be home sometime in January.
"If I come home before then, it's a bonus," he said. "Just don't expect me home before Christmas."
But on Dec. 19, Dustin called and asked for a favor.
"I said, 'Sure, what is it?" Heather recalled. "He goes, 'Can you pick me up at the airport tomorrow at 11?'"
Dustin said he wanted to surprise her. He took a bunch of selfies in the desert and sent them to her while he was traveling back.
Logistically, however, he couldn't get home without getting a ride.
But that didn't stop him from surprising his kids.
On Dec. 20, Heather drove to the airport and told Gabriella she had a big surprise for her.
"She goes, 'Is Daddy gonna like it? Do you think Daddy would like it?'" Heather said. "I go, 'I think Daddy is gonna like it a lot.'"
Gabriella thought they were going to the hospital because she associates parking garages with the family's frequent trips to the UW Children's Hospital in Madison for her brother Noah, Heather said.
They got out of the car, and Gabriella started piecing together where they were. She gasped and said, "My Daddy was here before," Heather recalled.
They waited at the bottom of the escalators.
She saw him.
She ran to him.
"It's a great feeling," Dustin said.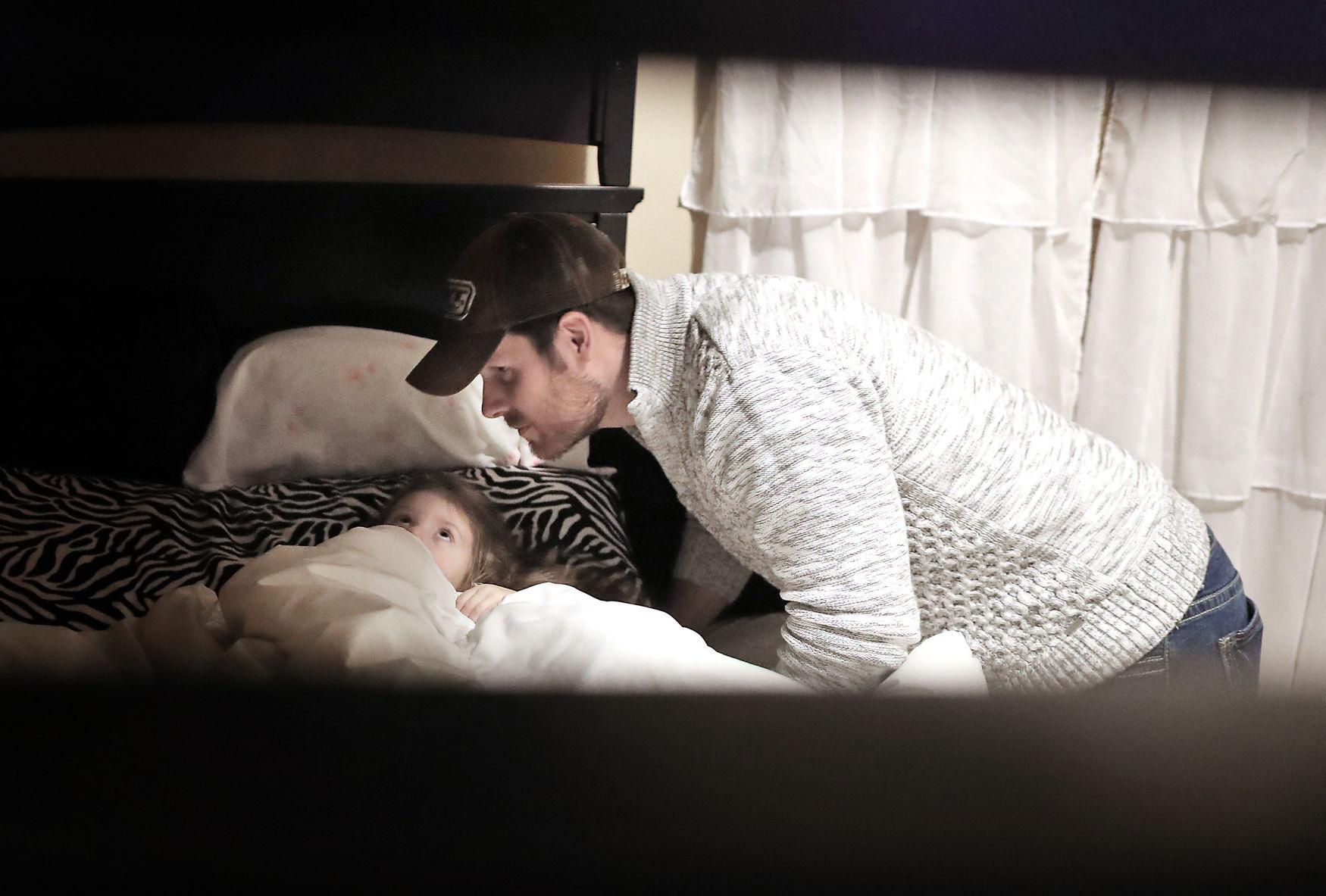 What next?
This has been Dustin's life for about 14 years.
He has spent most of that time—eight deployments—with the Army.
Really, the military had touched Dustin's life long before he joined. One of his grandfathers was in the Army, the other in the Marines, he said. His dad was in the Army, too.
Richard Harris, coordinator for student veterans and military services at UW-Whitewater, said 10 deployments is an unusually high number for a single soldier. He considers anything more than three deployments "rare."
Harris said he worries that excessive deployments can cause mental harm to soldiers.
But Dustin downplays the number. He said he knows people with fewer deployments, and he knows people with more. He said as a pilot, some of his terms are only a few months long instead of close to a year.
He said if he doesn't retire, he'll probably deploy one more time.
For Heather, that means more controlled chaos at home without a partner. More FaceTime. More nights alone in bed.
Every 90-second viral video of a soldier coming home to his or her family is preceded by months of quiet, months of stress and months of "You won't hear from me for a few days."
But Heather has another piece of advice for couples in similar situations: have something to look forward to.
Such as Christmas.