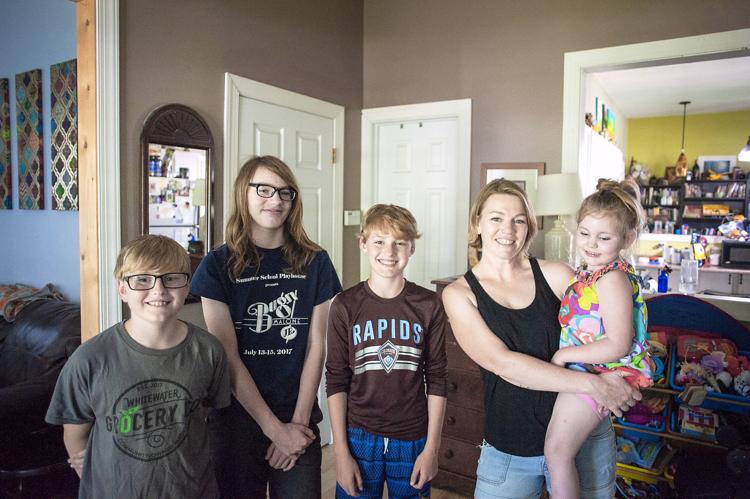 WHITEWATER
Joanna Marr Baker has lived in her home near the UW-Whitewater campus for 16 years.
She loves the location less than a mile from an elementary school, a middle school and a high school. That's great for her four children, ages 14, 12, 9 and 5.
The house, however, was bought in "various stages of disrepair," she said. Marr Baker and her husband, who was a builder, had intended to flip the house. It was a two-bedroom initially, so they have had to make some changes, she said.
The couple also isn't as enthused about living near a college campus as they might have been 16 years ago with no children, Marr Baker said.
"You don't always feel that the single families are being respected," she said.
They've been looking for a different home on and off to move for years but haven't found good options.
They are not alone.
The lack of family housing, particularly single-family housing, has troubled other residents and city officials, too.
Marr Baker said she has friends who have had trouble finding homes. One of them recently moved to Janesville. Another found a place in Milton.
"I think that's going to be the trend," she said. "People are moving out, it seems."
Although they don't want to, Marr Baker said they, too, have considered leaving Whitewater.
"It's unfortunate it's not as easy as it could be," she said.
The dilemma
City Manager Cameron Clapper has spoken with people who couldn't find single-family housing in Whitewater. He said it has been an issue in the city for a while.
Given Whitewater's geographic location and what happened during and after the Great Recession, existing starter homes have been more marketable as rental homes instead of family homes, Clapper said. This is not uncommon near universities, he added.
The city hasn't had the same subdivision housing growth as surrounding areas. Clapper said some municipalities had to put limits on single-family units to rein in developers.
"That is not the situation we have here," he said.
UW-W's growth in the last decade has outpaced the growth in the city's population, Clapper said, which is relevant to someone deciding to make a property a rental space.
To address the disparity between the high demand for housing and the low supply, a group of Whitewater stakeholders started a subcommittee late last year.
Jeffery Knight, president and CEO of the Greater Whitewater Committee, said they were approached by bankers and Realtors who said they had people looking for homes but couldn't find any.
The Single-Family Housing Taskforce subcommittee started meeting in November. The task force consisted of the Greater Whitewater Committee, bankers, Realtors, developers, business leaders, city officials and members of the school district.
The task force first heard from UW-Whitewater professor Russ Kashian and economics students, according to the subcommittee's executive summary.
They presented a study of 594 city, university and school district employees that showed 213—36 percent—of that sample lived in Whitewater. Most of the 594 respondents (487) were with the university.
The study outlined the need for housing and listed the west side as the best place to develop a subdivision, according to the subcommittee's document.
The presentation from Kashian included data on homes sold in Whitewater from 2000 to 2007 (429), 2008 to 2011 (216) and 2012 to 2017 (306).
In the group's second meeting, 12 developers shared what they would want and expect to see for a Whitewater single-family development:
A 12,000- to 17,000-square-foot lot costing developers in the high-$60,000s to low-$70,000s range.
The cost of the houses would be $275,000 to $300,000.
Plans would be passed quickly with fewer meetings to maximize developer time.
Knight believes Whitewater has a lot of the features a community needs to suit families, including an "outstanding" education system, safe streets and family-friendly activities.
"It's pretty easy to land people in Whitewater," Knight said. "Again, it really gets to making sure when those people are looking they're aware of what's here: why Whitewater is a great place to live, raise your family and work."
'Cause and effect'
The task force already has brought in tangible results. At the May 15 city council meeting, Loos Custom Homes announced it was buying 13 vacant lots on the city's northwest side.
Loos Custom Homes, of Johnson Creek, was invited to be a part of the task force and joined, attending every meeting, Knight said.
Loos had been looking in the Jefferson and Waukesha areas, Knight said, but once they saw Whitewater, they were on board.
The task force and the new development were a "direct cause and effect," he said.
Groundbreaking is scheduled for August. After that, Loos Custom Homes has the option to buy 20 more lots, which could see development starting in 2019, Cory O'Donnell, the company's director of land development, said in a news release.
To attract more such housing developments, city officials stressed the necessity of marketing.
"Whitewater has so much to offer, and we've shown Cory that. Now, we need to show others," Knight said in the news release announcing the Loos development.
The Greater Whitewater Committee is working with the city to create a booklet of resources that shows off the city and gives contact information for willing property owners.
Clapper is in the process of drafting a letter that will lead the booklet.
The city would send the booklet to several surrounding counties, including Rock, Jefferson, Dane, Kenosha, Milwaukee, Racine, Waukesha and other parts of Walworth. Counties in Illinois such as Lake and McHenry, could also receive the booklet.
The booklet is intended to make the process so easy for developers that they can see it, pick up the phone and "strike a deal," Knight said.
"We're really saving these people time and money," he said.
But the shortage of single-family housing options won't go away overnight.
'Don't want to go'
Marr Baker loves Whitewater and is hesitant to go elsewhere. The family loves the diversity and how the residents make them feel welcome, she said.
One factor that is "really keeping us here," is how Whitewater, and especially the university, are so handicap-accessible for her daughter, Marr Baker said. Seeing people like her all around town, including UW-Whitewater's wheelchair basketball team, means a lot to her daughter.
"We really, really don't want to (move away)," Marr Baker said. "We really, really, really love the community. And we just don't want to have to leave it.
"And I don't think we will," she said. "It's just that it's so frustrating, and I see my friends leaving. And that's really hard."