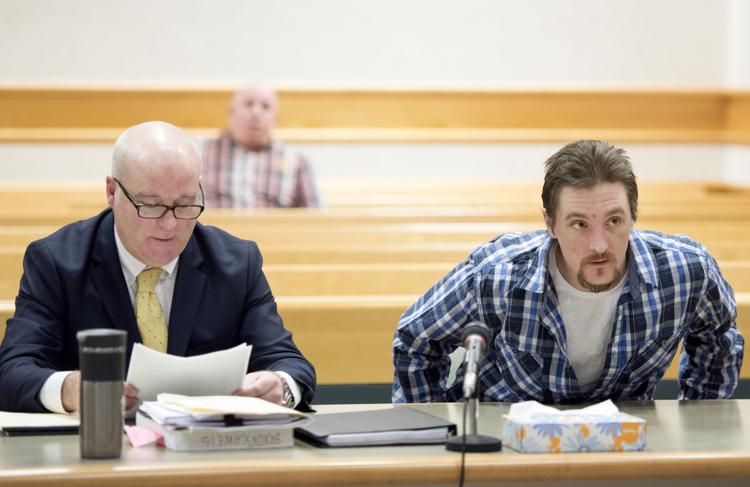 JANESVILLE
As Joseph Jakubowski was found guilty of burglary Tuesday in Rock County Court, questions remained about what he intended to do with 18 firearms he stole from a town of Janesville gun shop April 4.
Law enforcement at the time of the burglary had an informant who suggested Jakubowski might hurt people, possibly even attack a school. Schools around southern Wisconsin locked down or closed for a short time.
Authorities backed away from that idea later, saying Jakubowski's manifesto—the handwritten document he sent to the president—was more suggestive of anger and possible violence against political and religious elites. Churches and government buildings went on alert.
Jakubowski was enraged when he heard what he believed was people calling him a terrorist. We know this because he wrote about it in a letter to a judge in November.
But did he really intend to commit mass murder or any murder? His attorney, speaking after a jury handed down its verdict Tuesday, said Jakubowski was not a danger then and is not now.
"He thinks the reason he got such a bad rap, frankly, he thinks it was the media. I think it was the Rock County sheriff," Murphy said.
Sheriff Robert Spoden reacted to Murphy's criticism in October, saying he and Janesville Police Chief Dave Moore were briefed by the FBI each day about what they should say, and they were trying to give people information so they could keep themselves safe.
Jakubowski thinks the media exaggerated statements the sheriff made about the potential danger to the public at the time Jakubowski was on the run last April, Murphy said.
The statements concern the notion that Jakubowski might shoot up a church or school, Murphy said, and that idea came from a person who was trying to make a deal with law enforcement or the district attorney.
"So that statement, once it was seized by the media, or the sheriff, or both, was the basis for this belief that Mr. Jakubowski was dangerous."
Murphy added: "I'm sure he'd do it again if he could, but he never wanted to hurt anybody."
The prosecutor suggested after the trial that those early law enforcement concerns were unfounded.
Assistant District Attorney Rich Sullivan said Jakubowski was dangerous in the sense that he was carrying a large number of firearms that could do great damage if they fell into the wrong hands.
"I think that anyone who would steal that amount of firearms is a danger. I don't believe he ever intended to attack churches or schools," Sullivan said. "I believe he intended to live free on the land. I certainly believe that."
The jury found Jakubowski guilty after deliberating about 90 minutes Tuesday. Jakubowski did not stand when the jury entered and exited the courtroom at the Rock County Courthouse.
He could be seen writing, as he had done earlier that day during the attorneys' final statements.
Murphy said Jakubowski would likely want to make a statement at sentencing. When sentenced on related charges in federal court, Jakubowski went on at length about his anarchistic beliefs and his rejection of the government.
Sentencing in the state case is set for Feb. 28, when Jakubowski faces a maximum of 24½ years of prison and supervision.
In final arguments Tuesday morning, Murphy tried to raise doubts in the jurors' minds that the prosecution had not proved a part of one of the three charges, burglary while arming oneself with a dangerous weapon.
Murphy said he wouldn't deny Jakubowski burglarized the Armageddon Supplies gun shop.
But Murphy pointed out that Jakubowski, as seen on surveillance video, seemed to randomly choose weapons and ammunition without regard to whether they matched.
He didn't load the guns. He just stuffed them into a duffel bag, Murphy pointed out. Murphy suggested that the intent of the law was that a person has to arm himself for combat, and he said that clearly wasn't what Jakubowski was doing.
Murphy said Jakubowski acted "like a kid in a candy store."
Sullivan said the fact that the ammunition might not have matched all the guns is a red herring. He called Murphy a magician and told the jury they should ignore Murphy's attempt at sleight-of-hand.
The firearms—including an automatic M16A2 that Jakubowski took—are indeed dangerous weapons, Sullivan argued.
The jury also found Jakubowski guilty of theft and possession of burglary tools.
Judge James Daley asked that the district attorney's office try to get a copy of the pre-sentence report that was written for Jakubowski's sentencing in U.S. District Court in December.
If the federal report can be obtained, a local probation and parole agent won't have to repeat the effort, and that would shorten the time Jakubowski will have to sit in the Rock County Jail, Daley said.
Murphy said after the trial that if he had tried to deny that Jakubowski committed the burglary, he would have lost credibility with the jury.
"And besides, Joe didn't want me to make him out to be a liar. He's admitted it throughout the whole thing, and he's honest. At least you can say that about the guy," Murphy said.
"He's not an unintelligent individual. You know, he's got an ax to grind, but maybe he just chose the wrong way to grind it," Murphy said.
Murphy said it's likely Daley will base his sentence on the main charge, burglary while arming oneself, which carries a maximum penalty of 15 years. All three charges combined have a maximum penalty of 24½ years in prison and extended supervision combined.
It's still not known if Jakubowski will serve his 14-year federal sentence in state or federal prison.
Murphy said if Daley runs the sentence concurrent—at the same time—to the federal sentence, the sentence would likely be served in state prison, where conditions are "much better" than in federal prison.
But federal prison is more likely if Daley makes the sentence consecutive—one after the other, Murphy said.
Meanwhile, 13 of the guns Jakubowski stole remain missing, including the automatic.
Sullivan said authorities want those guns accounted for.
Asked if it would help Jakubowski if he revealed where the guns are, Sullivan said Jakubowski could then argue his help should be counted at sentencing.