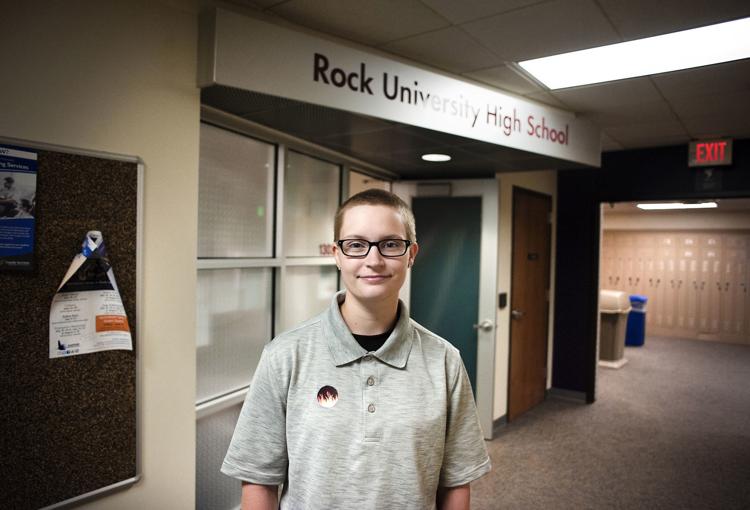 JANESVILLE
The magic of Makenna Barry might be her gratitude.
Or maybe it's her empathy—her ability to transform bad experiences into kindness for others instead of anger.
Or perhaps it is her willingness to see and articulate the other side of a story.
Whatever it is, Makenna's teachers at Rock University High School recognized that magic and picked her as the school's standout senior.
Makenna will graduate Saturday. She wants to attend school for welding, but first she plans to work to pay off her car and save for college.
For the first two and half years of high school, Makenna went to Craig.
"Not to bash on them, but I was miserable there," she said. "It wasn't the right fit."
She didn't like attending school for eight hours, and she thought her classes were tailored to taking a test and passing it. It was both too easy to learn and too hard to be there.
Then there was the bullying. Her taste in clothes and hair suits her perfectly, but she doesn't dress the way most high school girls do.
Many of her middle school friends ended up in other high schools, and she felt alone.
She went from being an A/B student to being a C/D/F student.
"It got so bad that my mom would have to fight with me every day to get up and go to school," Makenna said. "I got a warning that if I didn't come to school more I'd get a truancy ticket."
In the middle of her junior year, Makenna transferred to Rock University High School, a Janesville School District charter school located in Blackhawk Technical College.
"There isn't that bullying thing here," she said. "There are people that get into arguments; they get into disputes, and there's drama—well, it's high school, so there's going to be drama. But it's dealt with in a much better way."
When she talks about her teachers' kindness and encouragement, she starts to cry.
"I was here for like a week and a half when I got an email from my teachers telling me how well I was adjusting," she said, her voice breaking. "They care about you so much, and not just about your grades. They care about what's going on in your personal life, too."
Other students reached out to her when she arrived at school.
"By the end of first semester, I had so many friends," she said. "When I came here, I had people walking up to me, asking me about myself, asking me if I liked it here."
It might have been her personality or it might have been her life experiences—whatever the reason, Makenna became a quiet leader in school.
Makenna was always "the voice of reason in class," said Angie Kerr, Rock University High School dean.
"When her peers are having a bad day or saying something isn't fair, she always steps up," Kerr said. "She'll say, 'Look at what you are doing or look at what they've done for you.'"
Sometimes, kids who have been bullied want to hunker down and avoid taking risks.
Not Makenna.
"She just gets out there," Kerr said. "If I post an opportunity, like junkyard wars (a welding contest), she'll be like, 'I wanna do that.' If there's a field trip another school is taking and there are a few seats for our kids, she'll say, 'I wanna go.'"
After her interview with a Gazette reporter, Makenna pleaded with the reporter to include a special message in her story.
It was, of course, one of gratitude and addressed to her mom and stepdad, Jamy and Aric Larum, "for always being here and supporting me. I love you both forever and always, no matter what."