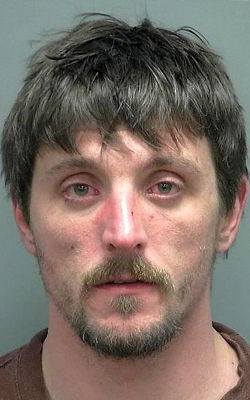 MADISON
Joseph Jakubowski argued angrily and used foul language in a dialogue with a federal judge Wednesday.
Then the judge sentenced the Janesville man to 14 years in prison.
U.S. District Judge William Conley also ordered Jakubowski to pay $16,942 in restitution to the owner of Armageddon Supplies.
Jakubowski, 33, admitted during his jury trial in September he had burglarized the Janesville gun shop April 4, taking 18 firearms and two silencers.
Thirteen firearms and a silencer remain missing.
"That is a real danger to society," Conley said.
"The defendant keeps telling the media and tells the court, 'I'll rob, I'll steal. I'll do anything I want,'" Conley said, and society needs to be protected from that.
The burglary, together with a lengthy manifesto Jakubowski mailed to President Donald Trump, which seemed to indicate he was willing to kill or be killed for his ideas, touched off a massive, 10-day manhunt.
Schools around southern Wisconsin went on alert or were closed for two days, and churches were later put on alert because authorities were concerned he would target those institutions.
About 160 local, state and federal law enforcement officers were assigned to the search, which made national headlines.
A wide-ranging argument between Jakubowski and Conley about Jakubowski's beliefs and actions occupied much of the 75-minute hearing.
After about 30 minutes of dialogue, Conley gave Jakubowski 10 more minutes to speak, and Jakubowski launched into a philosophical discussion about the nature of truth and belief.
Conley said Jakubowski raised interesting philosophical points, "but unfortunately you are not in a philosophy class."
In an ensuing argument, Jakubowski said: "OK, give me freedom or give me death. I don't care what your damned, stupid sentence is. … I don't care about your damned laws. (Expletive) your laws and (expletive) you, too."
Gun shop owner Scott Kuhl made a short statement at the hearing, saying he wants his firearms back.
"We don't have insurance, contrary to his belief," Kuhl said.
Kuhl said he and Jakubowski have one mutual friend, and from what he knows, he and Jakubowski grew up in similar circumstances.
"I turned out fine. I don't know what the hell his problem is," Kuhl said.
Conley said because the guns are still lost, it's unlikely Kuhl will get them back and that it will be years before Jakubowski is released and can start paying restitution.
Jakubowski complained to Conley that the news media made him look like a monster.
In the presentence document, his lawyer wrote that Jakubowski never intended to engage in violence.
"Indeed, the scare regarding schools and churches being targeted was nowhere in the manifesto; it came from a very drugged up ex-con, who knew Jakubowski and came into the police station when the initial reports aired and said he thought Jakubowski would do something like that but then later walked that statement back," according to the presentence document. "There was nothing in Jakubowski's words or actions that portended mass violence. To be clear: law enforcement's initial response was appropriate. But with the benefit of time and sober reflection, it is clear that violence was not Jakubowski's aim."
In court, federal defender Joseph Bugni said Jakubowski at one point intended to commit "suicide by cop," but he never did.
Conley ruled, over Jakubowski's objections, that Jakubowski had not taken responsibility for his actions, even though he had apologized to the gun shop owner.
Not taking responsibility, together with previous convictions for domestic violence and a 2007 attack on a Janesville police officer, helped pushed federal sentencing guidelines to a range of 12 to 15 years, Conley said.
Jakubowski complained that a psychological evaluation was released to a TV reporter.
Jakubowski started reading from the evaluation, which he quoted as saying he suffers from schizophrenia, anti-social traits, narcissism and paranoia.
He said he didn't agree with most of that.
A jury found Jakubowski guilty Sept. 26 of stealing from a federally licensed firearms dealer and being a felon in possession of a firearm.
The maximum penalty for those crimes is 20 years in prison.
Scott Blader, U.S. Attorney for the Western District of Wisconsin, would not say how much of the 14-year sentence Jakubowski is likely to serve. He said that would depend on "Mr. Jakubowski's willingness to conform and take responsibility for what happened here."
Jakubowski still faces state charges of burglary while arming himself, felony theft and possession of burglary tools. That trial is scheduled to start Jan. 22 in Rock County Court.
As for the missing firearms, Jakubowski's attorney said in the presentence argument that Jakubowski had tried to help find them:
"He didn't want some kid to get hurt, so despite them being buried in a deep pit, far in the woods, he met twice with law enforcement to help them recover the firearms."
But during the hearing, Jakubowski said the government had no right to strip his right to bear arms from him, even though he is a felon, "so I ain't giving them back."
Later, talking about guns, he said: "As a felon, I had them anyway. So what?"
"You realize what you did was an act of terrorism," Conley told him.
"OK, go ahead, label me," Jakubowski responded.
Jakubowski went on to say the government committed acts of terrorism at the 2016-17 Dakota Access Pipeline protests.
"The government pushed Indians off their land and away from their water for oil," he said.
Conley warned Jakubowski several times that he wasn't helping himself get a better sentence.
"I could care less (sic)," Jakubowski responded at one point. "I don't like that world out there."
"I truly don't care about the law. … I'm done with laws and rules," he said at another point.
Some hints about what led Jakubowski to do what he did it were given, including that he was abused as a child, suffers from a back injury that keeps him from some jobs and spent $12,000 on a lawyer to get his gun rights restored, which ended in failure.
"He is broken, … physically, financially, emotionally, mentally, even in spirit," Conley of Jakubowski.
Jakubowski suffered physical and psychological abuse at home, Conley said, adding that his mother suffered from mental illness while his stepfather was unusually cruel.
Both parents used marijuana, Jakubowski started using it at age 13 and later became an alcoholic, Conley said.
As he neared the end of his remarks, Conley said he hoped Jakubowski would grow in his understanding of truth in the role of government.
"How are you going to tell me what's right for me?" Jakubowski said suddenly, loudly and angrily.
Conley, who had kept a soft tone throughout, never referring to Jakubowski's attitude or rough language, replied: "I'm not. It's up to you."